McDonald's Reunion...
A snapshot of Just James and John at Ollies at the the begining of the Fall semester at Columbia after Delanda's lecture....and tonight at the end of the semester we find ourselves back at Ollies after a long discussion about the paper for Delanda's class...our final assignment of the semester...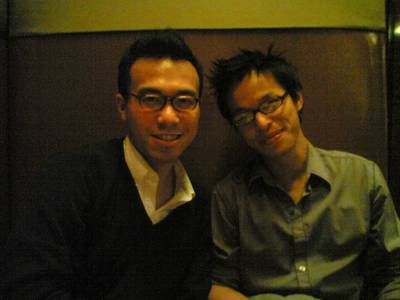 The day started fairly late for after a night of feeling psychologically ill and along with insomnia, I had trouble getting myself out of bed today...not that I didn't want to get out of bed but I just couldn't because the dreams and nightmares were holding me back...I was bombarded by one nightmare after another...but those nightmares made me aware of that certain unknown fear or despair in me, which I gather to be a coomon experience of the modern human condition...they were dreams about waking up and not finding oneself at home but in some strange hospital like place being under constant watch, and people coming in to my space with what looked like restaurant bills while I desperately search for the 16E that should be on the door of my apartment...and then sudeenly I would find myself in a large social setting only to discover that my face was full of red scars...and just like ghosts, only I was able to see those scars and the people surrounding me were somehow oblivious to it...these dreams left me exhausted when I woke up to Jame's phone call about meeting at Starbucks to talk about the final paper for Delanda's class...
I dragged my tired self out of bed, got ready and headed to Starbuckes near Columbia University, much to my surprise John also showed up to discuss about the paper, because I haven't seen John in a long time, it's as if he disappeared for most of the semester...and just like that, over starbucks coffee and a few books and notes we talked about our topics of interest and helped each other out with those ideas...what I came to realize was that the subject matter in which we were each interested in writing about were all issues that were somewhat related to ourselves personally...and that made the discussion all the more interesting...
Just James was all about dicussing the current conditions of the squatters culture in the Philippines, and how the Philippines came to be this way and why it still remains a third world country...and this topic is of interest to James because he feels deeply for the political situation of his country and hopes to be a politician in the Philippines...or better, becoming the president of the Philippines because he seems so eager to fix the problems of his country...I am not surprised that besides architecture he would want to become a politician...afterall, James does come from a lineage of politician relatives and family members...
Meanwhile John was thinking about the issue of identity and how that relates back to the larger system in the network of cities, and to a larger scale bnation states...how in today's technology allows us to spread parts of purselves in different places, while still being in one place...and potentially exploring the idea whether there is the notion of the "self" or the "individual" is really valid or is it the social networks in our society that help bring about the notion of the "self"...and I think it is also very relevant to what John is going through, it's all about finding himself, and coming to terms with his relationship and his ADD problems...for John it was all about discovering the self, the identity problems and coming to terms with his personal issues...
This helped jumpstart my potential topic for my paper, about the outsider, the one that has different ties to different social networks but in the end discovers that as the outsider, one really has no ties, because the multiple ties that one has with the various social networks in the cities are all weak ties...one is not cut off from completely from any of the social networks because who has some resemblance to a particular social network in order to fit in...however, as James suggested, could it be that the tie only remains because the presence of the outsider helps reaffirm the existence or identity of a particular larger social group...I think to a certain point...this is also very personal to me always feeling like the odd one out, the one who has never developped any strong ties to any social group...
And so our conversation was briefly interrupted when Sawn and Bill walked in to Starbucks...all of a sudden, in a strange way the common thing amongst the five of us was that we were all in Bill McDonald's studio last semester...it was a brief "McDonald's reunion" at Starbucks...feeling hungry John, James and I headed to Ollies for a late dinner...we all decided to watch "one hour photo" at John's place at International House where Jon and James are neighbours...the movie was great...and to James that movie was all about the "beige" infiltrating the other "beige"...but to me it was all about a criticism on the utopia of surbanism, that image of perfection that a family tries to portray is in reality disfunctional...and we both read the movie as relating to our studio projects...him just after finishing the "beige" topic studio and me just after the completion of the "utopia now" studio...And so, that was our little reunion and for me that brings back memories of three of us having a great time in SoHo and coffee at the East village, going to the Brancusi exhibit at the Guggenheim with John, going to the Barneys warehouse sale with John and Greg, and most of all the excursions in the city with Just James. Truely expriencing new york city, with a coktail at the Hudson lounge, dessert and coffee at the "W" hotel bar, the making of our documentary film, afternoon tea at Takashimaya and taking a walk along Central Park...I had a great time...